2018 Schedule of Events for the BHHA and Bishop Hill
PDF of the Bishop Hill Map:  MapBH2016

Lucia Nights in Historic Bishop Hill
Bishop Hill invites you to join the Lucia Nights celebration on Friday December 7 and Saturday December 8 from 6 to 9 p.m. This Swedish tradition is based on a legend of Saint Lucia, Queen of Light. Girls in Sweden today wake their families on December 13th carrying a tray of Lucia buns while dressed in a white robe and wearing a crown of candles.
Lucia Nights begins in Bishop Hill with the Lighting of the Park Christmas tree at 6 p.m. on Friday, December 7, with music provided by the Peoria Cooperative Academy Madrigal Singers. The public is invited to bring edible ornaments to hang on the tree. Evening attractions include free musical performances in various locations in town. Businesses and museums will have a Lucia girl serving cookies. Around the village, each building will have a single candle in each window, and sidewalks will be illuminated. Restaurants are open both evenings. Special Christmas gifts will also be on sale.
On both Friday and Saturday evenings, Bishop Hill will be hosting a wide variety of activities. At the Fire Station, the Peoria Cooperative Academy Madrigal Singers will be performing each night, followed by Jazz on the Side. The VASA National Archives will have a closing reception for their exhibits, with storyteller Brian "Fox" Ellis sharing traditional Swedish and Pioneer Christmas stories. At the Steeple Building Museum, Hammer and Pick will be playing a variety of Christmas and folk music. In addition, the Bishop Hill Community United Methodist Church will host the annual Soup and Chili Supper, beginning at 4:00 p.m. A free-will donation is appreciated to cover the cost of the meal.
On Saturday, December 9 only, beginning at 7 p.m., there will be an Old Fashioned Barn Dance at the Colony School. The Rusty Pickup String Band will be performing. All dances taught and called by Gail Hintze and Jim Hicks. Admission is $5 per person, and beginners are welcome. No partner is necessary.
For more information about Lucia Nights, call 309-927-3899 or visit www.bishophill.com.
Lucia Nights is sponsored by the Bishop Hill Arts Council, Bishop Hill Heritage Association, Bishop Hill State Historic Site, Old Settler's Association. VASA National Archives, Bishop Hill Volunteer Fire Department, and numerous local businesses. The event is also partly funded by grants from the Illinois Arts Council Agency, a state agency, and the Quad City Arts.
December 15
Free Public Showing of the 1979 Bishop Hill Documentary
In the late 1970's, the BHHA hired Yvonne Hannemann and her crew to film a documentary about the Bishop Hill Colony and its history as told by the people here. That 27 minute film was then shown to tourists who came to the Steeple Building Museum. The film prints of that documentary as well as thousands of feet of film that did not make the final cut have been in storage since then.
The BHHA, with the help of Creative Images in Geneseo, have created a 2 DVD set that not only includes a restoration of the original documentary but also full length, never before seen interviews with local townspeople, as well as lots of film of Bishop Hill as it was 40 years ago. The following interviews are on the DVD set: Ron Nelson, Asa Spets, Chuck Johnson, Dorothy Palm, Edla Warner, George Swank, Maurice Laub, Wayne Nordstrom, and much more.
This 2 DVD set, with 4 hours of video, is being sold at the Colony Store for $15.
In addition, on Saturday December 15, we will have a free public showing of all 4 hours of video in the Steeple Building Museum from noon to 4 p.m. Photos of the DVD set are shown below.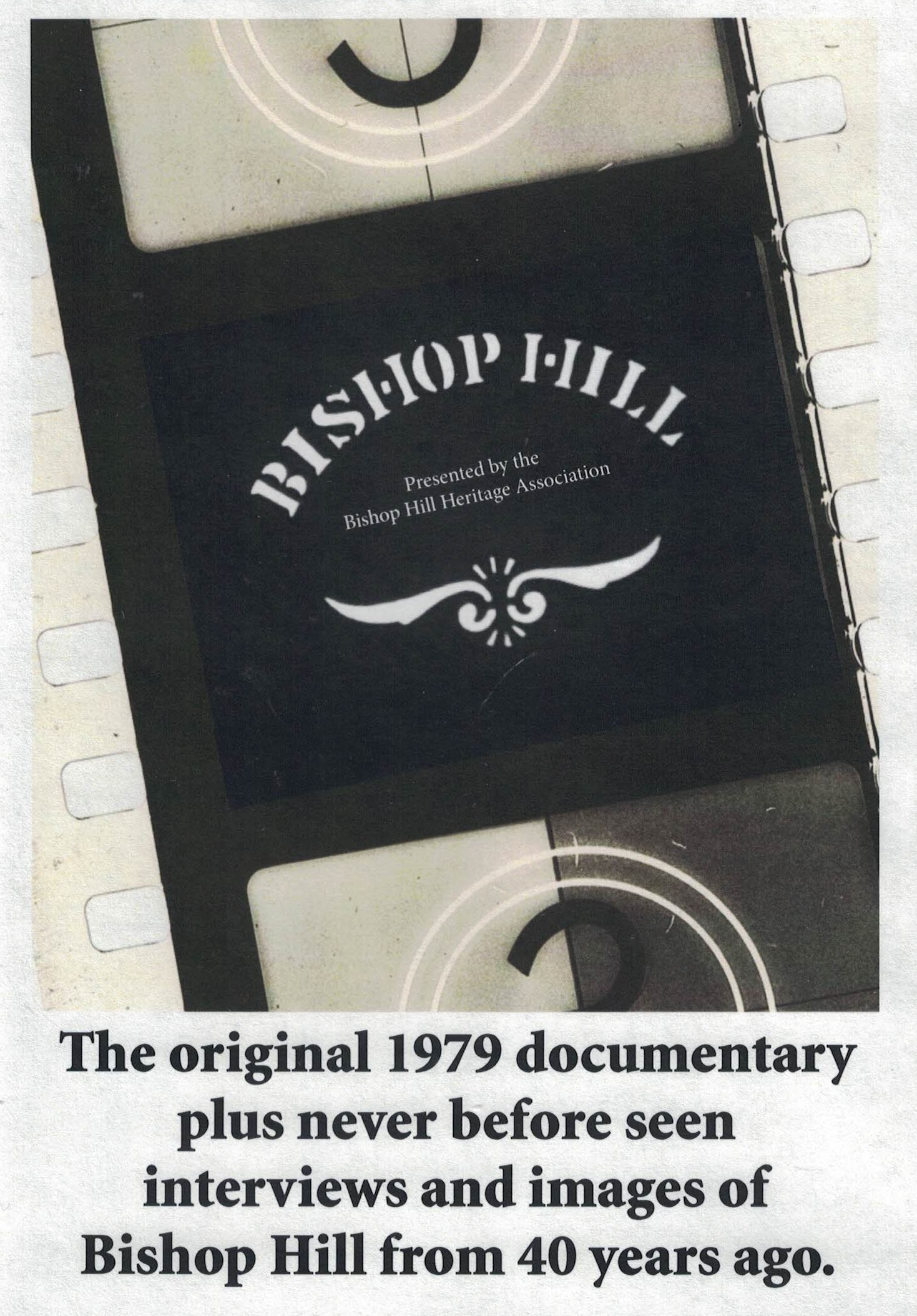 Dec. 15-16 BHHA MEMBERS APPRECIATION WEEKEND
Heritage Members!! Bring your BHHA membership card to the Colony Store during regular business hours and receive 20% discount on all purchases. If your membership has lapsed, there is still time to rejoin the Bishop Hill Heritage Association. All other customers receive 10%
December 25
Julotta – Candlelight Non-denominational Church Service
Services are held in the Colony Church and conducted in Swedish and English. Coffee and rusk served following the service. 6am.
309-927-3345
Please call 309 927-3899 to confirm dates and times. Additional events may be added.