2023 Schedule of Major Events for the BHHA and Bishop Hill
PDF of the Bishop Hill Map:  MapBH2016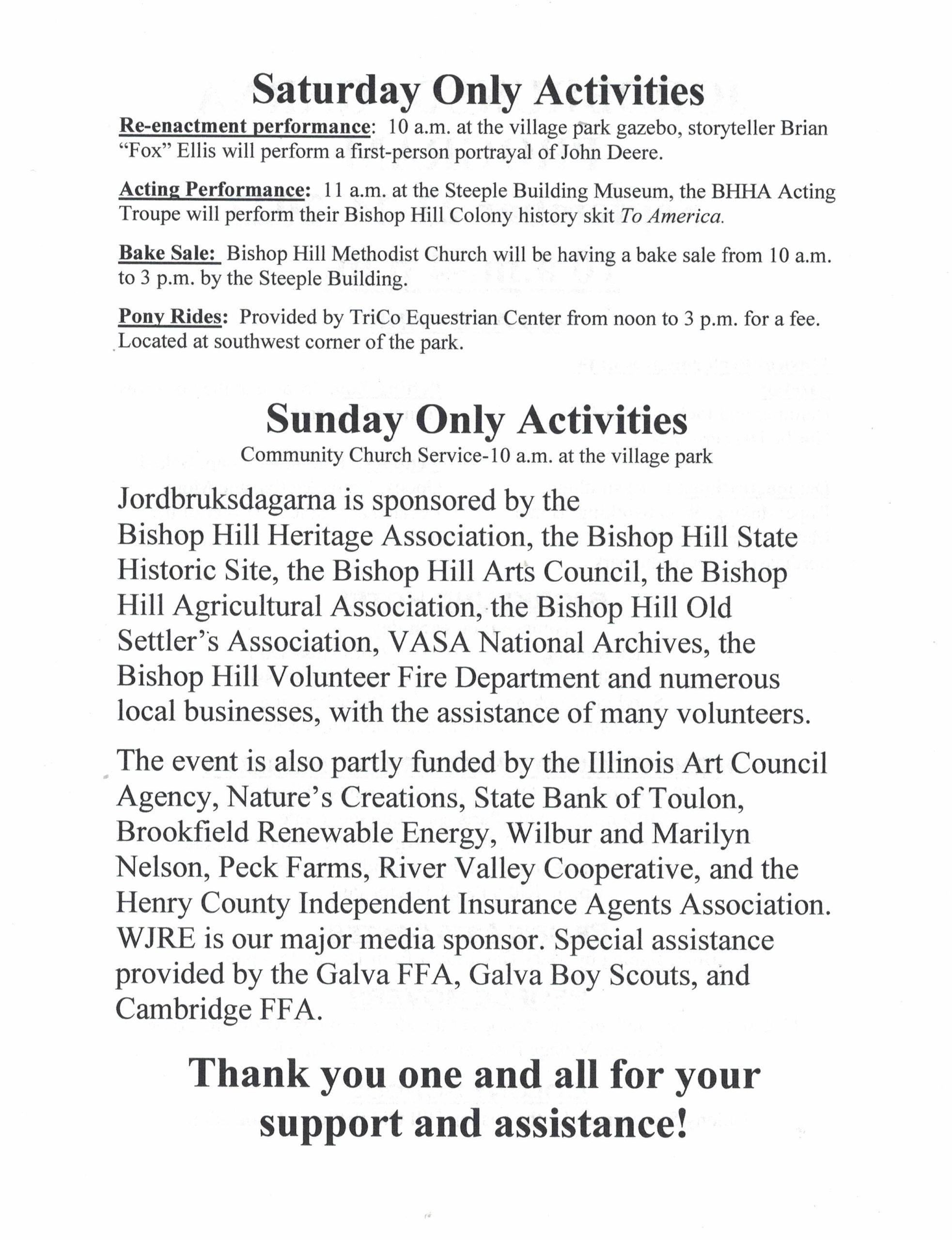 Sept. 23-24      Agriculture Days – Jordbruksdagarna
Bishop Hill's annual 19th century harvest festival Jordbruksdagarna (pronounced yord-brooks-DAH-ga-na) will take place Saturday September 23 and Sunday September 24, 2023.   As always, there will be a variety of traditional craft demonstrations, food, vendors, and hands-on activities for the children during the 51st Jordbruksdagarna (Swedish for "earth work days") from 10 a.m. to 4 p.m. both days.  Demonstrations, hands-on activities, play, and music are all free.
In the village park, artisans will make rope, process flax, carve wood, forge metal, make butter, and more.  Vendors will also be selling farm produce, pumpkins, herbs, baked goods, crafts, and much more in the park from 10 a.m. to 4 p.m. both days.  Musical performances will include Hammer and Pick at noon and 2 p.m., and the Nordic Dancers at 1 p.m. and 3 p.m. each day at the gazebo.  There will be a petting zoo located in the northwest corner of the park as well. 
Jordbruksdagarna is not just located in the park but all over Bishop Hill.  At the Colony School, the Old Settlers' Association will be serving their famous Colony Stew from 11 a.m. to 1:30         p.m.  Uncle Bud Apple Cider Slushie and Pop of the Morning will be next to the Carpenter Building serving food and drinks.  Behind the Bjorklund Hotel from noon to 4 p.m. each day, visitors, especially children, can try their hand at shelling corn, making bricks, pressing apples into cider, and creating a cornhusk doll.  Music will be provided by the Templetons from 1 to 3 p.m. each day behind the Hotel. Visitors can explore Henry County's agricultural heritage at the Henry County Historical Museum, where a variety of antique tractors and implements will be on display outdoors.  Each day at the Henry County Historical Museum, the Bishop Hill Agricultural Association will do demonstrations, have an antique tractor parade around town at noon, and conduct a kid pedal tractor pull at 1 p.m.  Author Mary Davidsaver will have a book signing from 10 a.m. to 3 p.m. at the Prairie Arts Center.  Tractor people movers will also be available to transport people around town to experience many of the activities, museums, and stores that Bishop Hill has to offer.
On Saturday September 23 only, professional story teller Brian "Fox" Ellis will perform as John Deere, inventor of the steel plow, at the park gazebo at 10 a.m.  Following that free performance, the BHHA Acting Troupe will perform their Bishop Hill Colony history skit To America at the Steeple Building starting at 11 a.m.  In the southwest corner of the park,  TriCo Equestrian Center will have pony rides from noon to 3 p.m.  Finally, the Bishop Hill Methodist Church will be having a bake sale from 10 a.m. to 3 p.m. by the Steeple Building.
For more details about Jordbruksdagarna activities, call 309 927-3899, email bhha@mymctc.net, check the Bishop Hill Heritage Association Facebook page, or view www.visitbishophill.com.  Jordbruksdagarna is sponsored by the Bishop Hill Heritage Association, Bishop Hill State Historic Site, Bishop Hill Arts Council, the Bishop Hill Agricultural Association, Old Settlers' Association. VASA National Archives, Bishop Hill Volunteer Fire Department and numerous local businesses, with the assistance of many volunteers.  The event is also partly funded by the Illinois Art Council Agency, Nature's Creations, State Bank of Toulon, Brookfield Renewable Energy, Wilbur and Marilyn Nelson, River Valley Cooperative,  Peck Farms, and the Henry County Independent Insurance Agents Association.  WJRE is our major media sponsor.  The Cambridge FFA, Galva FFA, and Galva Boy Scouts provided special assistance, along with many other volunteers. 
Oct. 14-15    Bargain Hunter Weekend
Come celebrate the bounty of fall in Bishop Hill as various stores, museums and restaurants offer special discounts, events, and activities. Collect signatures from 6 businesses or museums and be entered for a gift basket drawing at the Colony Store. Call 309-927-3898 or email VasaArchivist@gmail.com for more information.
October 14    Pottery Festival
The Bishop Hill Pottery Festival will include demonstrations in pottery and the art of Raku firing. This event will also include a number of various artists from the surrounding area featuring glass, wood, textiles, candle and soap making. Help us welcome back Special Needs Bakery.  10 a.m. to 5 p.m.
October 21  Woodcarving Workshop
Learn basic woodcarving skills and take home your own Tomte ornament!  Students will be provided the wood blank, along with a quality carving knife, protective Kevlar glove and thumb guard.  This class is designed as a beginner's class but some experience handling a knife and working with wood will be helpful.  The participants will learn proper carving techniques with emphasis on safety.  The class will be taught at the Dairy Building.  Register by calling 309 927-3899 or emailing bhha@mymctc.net    
November 4 Dala Pig Painting Workshop
Carol Curry will be conducting a PIG painting workshop at the Dairy Building in Bishop Hill, Illinois. Participants will hand-paint a small pig using traditional Swedish colors and designs that you can take home. Paint, brushes, rooster, and other supplies will be provided.  To reserve your spot, call 309 927-3899 or email bhha@mymctc.net .
Nov. 24-26, Julmarknad- Christmas Market
Visit traditionally decorated shops and museums.  Encounter Swedish folk characters roaming the village.  Special music, Swedish foods, unique gifts, and more.  Enjoy the Christmas Cookie Walk at the Colony School Friday and Saturday only. 
Event is free and open to the public.  For more information, call 309 927-3899  or email bhha@mymctc.net
Dec. 2-3      Julmarknad
Sights, sounds, and aromas of Christmas past.  Swedish folk characters will roam the village.  Special music, Swedish food specialties, abundance of handmade wares, and antiques.  Chocolate Walk fundraiser at the Bishop Hill Creative Commons              
Event is free and open to the public.  For more information, call 309 927-3899 or email bhha@mymctc.net
Dec. 8-9      Lucia Nights-Festival of Lights
Experience a unique Swedish holiday. Luminaries line the sidewalk and candles are in every window.  Live music at several locations.  Young girls dressed as St. Lucia serve drinks and sweets in shops and museums throughout the village. All Bishop Hill restaurants and shops will be open. December 8 is the Christmas Tree lighting in the park at 6 p.m.  On December 9, Barn Dance at the Colony School.
Festival is free and open to the public.  For more information, call 309 927-3899 or email bhha@mymctc.net  
This is a listing of the major events only.  Not all programs are listed, due to the large number of activities.  Please confirm events details by emailing bhha@mymctc.net, visiting the Bishop Hill Heritage Association Facebook Page, calling 309 927-3899, or visiting www.bishophillheritage.org
*The programs of the Bishop Hill Heritage Association are partially supported by a grant from the Illinois Arts Council Agency, a state agency.